Browse categories
Subscribe to our weekend event picks
The igokids blog
0
As the festive season continues to creep up on us, the checklist of things to do gets longer and longer. Certainly holiday shopping is high up on your list, but we're betting sending holiday cards is also on there. The winter holidays is a great time not only to wish your loved ones a Merry Christmas, but also a Happy New Year. This means updating your extended family and out-of-town friends on what you have been up to all year long, and usually the end of the year holiday card sums it all up.

We've created a list of photographers in New York City who will help out with creating that magical family moment to pass on to your friends and family and will help you design your holiday card too.
Read more
1
What parent doesn't want a smart education for his or her child? Every Fall, parents around NYC begin the arduous process of finding the right pre-kindergarten and kindergarten school for their kids.

These days the process can be almost as rigorous as the college application process was for us when we were growing up. There are tests to take, open houses to attend and interviews for both parents and children. The process can take a lot out of you, but it's worth it in order to set your child on the right educational path.

Read more
0
It's officially holiday season here in New York City! The kids have their lengthy wish lists prepared, and it won't be long before they're asleep in their beds with visions of sugarplums dancing in their heads–sugarplum fairies, that is! And maybe a mouse king, some gingerbread man soldiers, a land of sweets, and maybe a dancing doll or two.

Read more
0
You may have started seeing Christmas merchandise for sale right around Halloween, and candy canes may have started appearing in the supermarket aisles ages ago, but you really know the holidays are approaching in New York when the holiday shows start to roll into town. From the super extravaganzas to some smaller, quieter performances, we've got a roundup of what you'll want to see to make the season merry.
Read more
0
We hope everyone had a wonderful Thanksgiving! Of course, after the massive feasting comes the food coma and subsequent food hangover. And after that, comes holiday fun! Taking place all over the city are wonderful holiday time events to kick off the season. There are classics like the Radio City Christmas Spectacular, The annual Grand Army Plaza Menorah Lighting and the Nutcracker. There are also plenty of fun family events that are not holiday centric if you are already saying Bah Humbug! Whatever events you chose there's plenty to see and do. Here are this weekend's picks.

Read more
1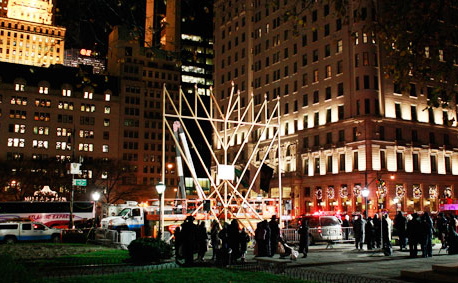 Happy Chanukah! Tonight marks the first night of Chanukah, coming a little early this year on the eve of Thanksgiving (or what pop culture is now dubbing Thanksgivukkah). And as we all know, everything is just a little more "grand" in New York City. While you may light your Menorah at home with the kids, you can also check out two of NYC's big Menorah Lighting celebrations. After all, NYC's Menorahs are proclaimed to be the largest in the world.
Read more
0
Within the 20 square blocks between Rockefeller Center and Times Square sit seven theme stores, built entirely around your child's favorite toys or candy. They make for fun destinations on their own and for particularly delightful surprises to "happen upon" with your child (or, for that matter, your niece, nephew, grandparents and out-of-town guests).

Read more
0
One of the many great things about New York is the wealth of theater opportunities it affords, especially for families—there's no better to place to introduce kids to the excitement of live theater. We've rounded up a selection of shows for you to check out, from the classics to the offbeat, for younger kids and older, from the theater savvy to the novice—in fact, for anyone who wants a great New York theater experience.
Read more
Read more articles
Today's Events in
New York City