6 Weeks, 6 Classic Movies at the Film Forum
1
2
Enter the section header (optional)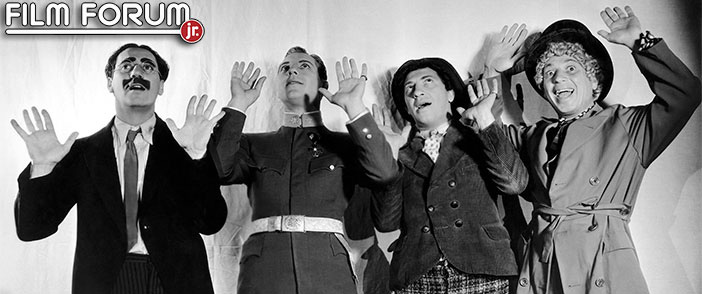 2
0
Enter the section header (optional)
So, you say you've had just about enough of taking your middle school kids to see Michael Bay's explosion-filled,
Transformers
films umpteenth time – right?
Well, perhaps it's time to give your kids a taste of the classics. Every Sunday at 11AM, the
Film Forum
shows a classic film for families to watch with their kids. These films are generally PG-13.
3
0
Enter the section header (optional)
The next six Sundays, feature six classic movies dating back to 1924. First up, on Feb 23, we have my personal favorite,
North by Northwest
. This Hitchock movie stars Cary Grant and focuses on an advertising exec, who gets caught up in a spy ring. Just picture Don Draper from
Mad Men
getting accidentally tossed into a James Bond movie.
On March 2,
How Green Was My Valley
will be playing. The story centers on a family of coal miners that tries to give their son a better life. Next up, on March 9, it's the Marx Brothers in
Duck Soup
. This is probably the most fun for kids since it blends the Marx Brothers trademark comedy and musical numbers. On March 16, we have
Annie Get Your Gun
. This Academy Award winning movie is a comedy musical, with a western flavor and a heroic woman lead. March 23 takes us back to 1924 with
The Navigator
. This screening will also feature live piano by Steve Sterner.
Finally, we have the Oscar nominated film
The 400 Blows
on March 30. This movie, which centers on a neglected adolescent who turns to a life of crime, has been celebrated and imitated in countless movies. It's a little more edgy than some of the comedies, but definitely a classic.
Seeing these films in the theater always offers a different experience from watching at home (especially when there are commercial breaks). If you stop by the Film Forum, be sure to stop back on
igokids
to let us know what your kids thought of the movie.
Location
:
Film Forum
209 West Houston St. (west of 6th Ave)
New York, NY
Ticket Price
: $7.50
0
comments powered by

Disqus