A Visit to Kids Playhouse in Astoria and Jackson Heights
1
2
Enter the section header (optional)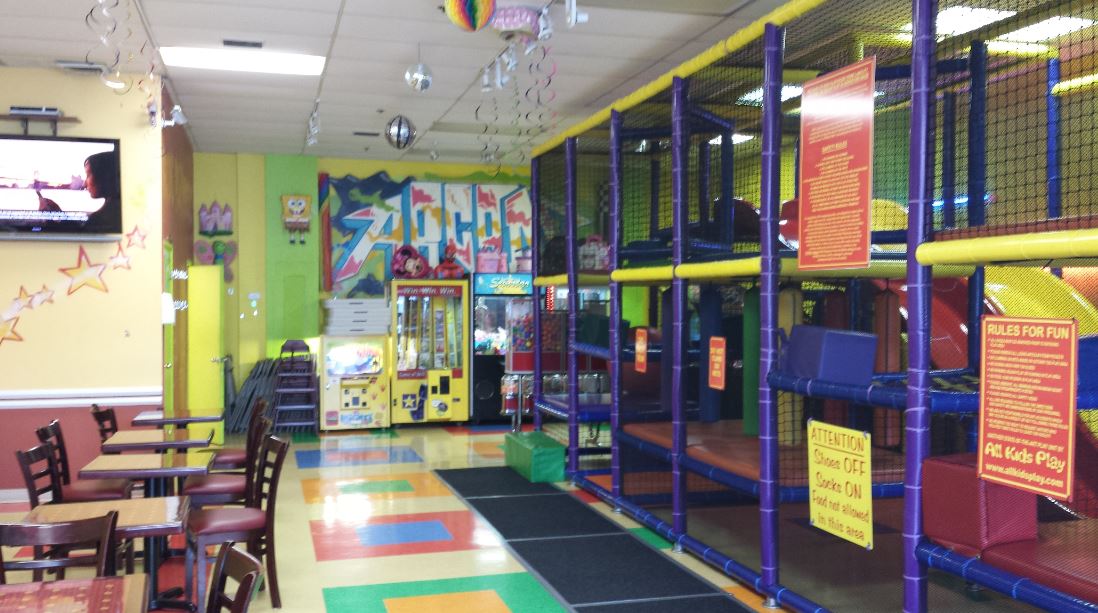 2
0
Enter the section header (optional)
Do you ever have those mornings when it's freezing outside or raining (or both) and you look at your kids and wonder how on earth you're going to fill the next 12 hours of the day? While all parents have days like that, I'm willing to bet they're more frequent during the months of January, February, and March—that long, cold stretch that must be endured before the promise of spring can finally be realized. Luckily, there are many great indoor play spaces to help keep parents—and their kids—from going crazy on those long days when going outside isn't an option.

3
0
Enter the section header (optional)
I recently went to
Kids Playhouse
, a small but well-appointed play space that serves as a place to keep your kids happy and busy without having to break the bank. Family-owned and operated, Kids Playhouse has been a go-to spot for parents in Astoria, Queens for about two years, and the owners were able to open
a second location in Jackson Heights

. The Astoria location is ideal—it's on the neighborhood's main thoroughfare of Steinway St, about a block from the M, R train at the Steinway station. While metered street parking is available and not too hard come by, the train is probably the quickest and easiest way to get there.
4
0
Enter the section header (optional)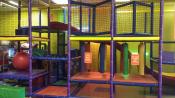 When you enter Kids Playhouse, you're met with a bright, open, and cheerful space—big enough for kids to stretch out and play, yet small enough for parents to keep a close eye on them. You'll also notice that the place is immaculate.

5
0
Enter the section header (optional)
As far as cost, three hours of play time is $7 per child with two adults per child allowed, which is a bargain compared to some of the other indoor playgrounds in the city. Parents can drop in any time Monday through Friday between the hours of 10 am and 8 pm and pay at the counter upon arrival. On one side of the room there's what the Playhouse staff refers to as the "cafe area," which is really nothing more than lots of tables and chairs lined up along the wall. This is where you can park your stroller and leave your coats and shoes (socks are required to use the play equipment).

6
0
Enter the section header (optional)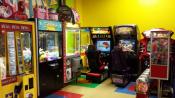 On the opposite side of the room is Kids Playhouse's main feature, a floor-to-ceiling vertical maze with 15 sections and two 8.5-foot slides (on which—and I can personally attest to this—you can pick up quite a bit of speed).

One cool feature of the maze is that it's rearranged periodically, so frequent visitors won't get bored with the same setup. While the maze is enclosed with netting and is completely visible from the cafe area, parents of little kids will probably want to shadow them as they climb from section to section. I've visited Kids Playhouse with my 2.5-year-old daughter numerous times and have only recently become comfortable sitting back and letting her traverse the maze on her own (though I'm a first-time-mom and a self-proclaimed worrywart). Though the maze doesn't have a recommended age range, I would say it's most appropriate for children in preschool up to about age 8. For bigger kids, there's also an area behind the maze that's set up with a few different arcade games.
7
0
Enter the section header (optional)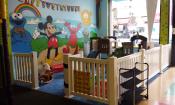 Next to the maze is a small, gated area designated for infants and toddlers that's outfitted with lots of age-appropriate toys and play equipment. I loved bringing my daughter here when she first started to crawl because the space is completely baby-proof, so I was able to let her explore on her own. My only complaint is that the age designation for this space doesn't seem to be enforced—there have been a few occasions when I've visited and seen children who were well past the toddler years playing in the infant/toddler area, making it too crowded and less accessible and safe for the little ones.
8
0
Enter the section header (optional)
After your kids have worked up a good appetite from playing, you can hit the snack bar, which offers pizza at $10 per pie in addition to all kinds of drinks and goodies for purchase—everything from popcorn and chips to fruit snacks and cereal. There's even coffee for the grownups and socks that you can purchase for $1 if you forgot to bring a pair for yourself or your kids.
9
0
Enter the section header (optional)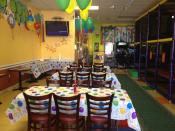 In addition to the drop-in play areas, Kids Playhouse specializes in hosting birthday parties. For $450, the birthday party package also includes use of the entire space for two hours for up to 15 kids, pizza, beverages, balloons, cups and plates, $10 in game tokens, and free parking for the party host. Though they don't offer any particular party themes, they'll work with parents to accommodate themes and additional decorations if you choose.
10
0
Enter the section header (optional)
Kids Playhouse has a lot of fun to offer at a great price. The space isn't huge, but it works well, and every time I've visited all of the kids seem to be having a fantastic time. Though it can become quite busy during the late morning hours and in the afternoon, you can usually avoid the crowd if you go earlier in the morning or closer to lunch time. Also, before you go, be sure to
check their Facebook page
to make sure they'll be open since they occasionally rent out the space for birthday parties during the week.
11
0
Enter the section header (optional)
Locations
Astoria
34-17 Steinway St
(718) 806-1288

Jackson Heights
93-05 37th Ave
(718) 255-1505

General Hours
Open play
Mon - Fri: 10 am - 8 pm
Birthday parties
Sat & Sun (parties can also be booked Mon - Thu for a 10% discount): 10 am - 8 pm

How to Get There
Subway: M or R train to Steinway St.
Bus: Q101 to Steinway St. / 34th Ave
0
comments powered by

Disqus