First Visits: The National Museum of the American Indian
1
2
Enter the section header (optional)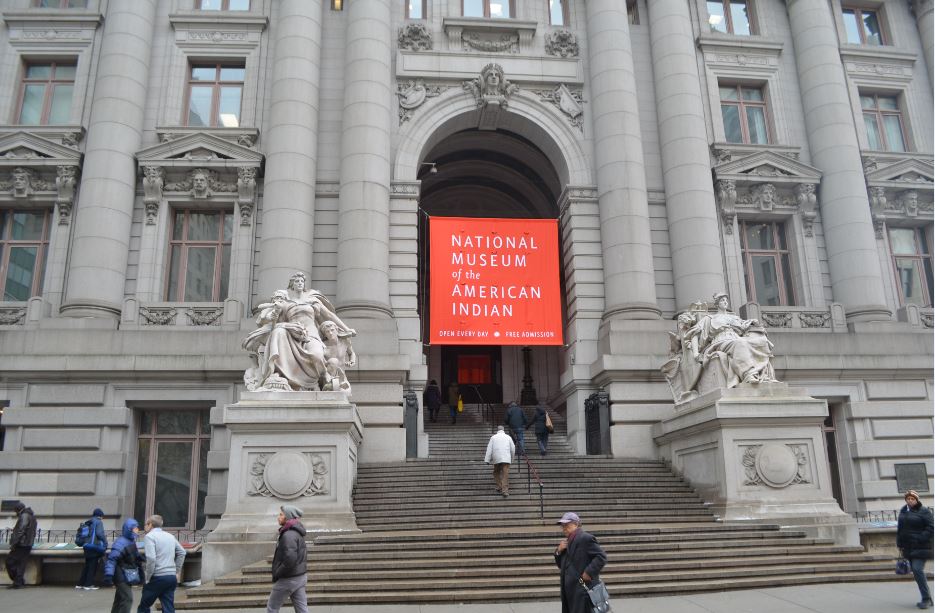 2
0
Enter the section header (optional)
As most New Yorkers have discovered, this city is full of small establishments that are often over-shadowed by their larger counterparts. These range from small bistros and hidden parks to art galleries and theaters. The
National Museum of the American Indian
is one of these treasures. Though not as big and illustrious as the
American Museum of Natural History
or
the Met
, the NMAI is a fantastic museum that features Native American historical, cultural and art pieces from across the Western Hemisphere.
3
0
Enter the section header (optional)
The NMAI, which is part of the Smithsonian Institute, housed in the historical Alexander Hamilton US Customs House, is located in lower Manhattan. It is a beautiful building, complete with towering columns and a domed roof. The museum occupies two floors, with the bulk of the exhibits on the second floor. There are both stairs and elevators that allow easy passage between the two levels.
4
0
Enter the section header (optional)
Circle of Dance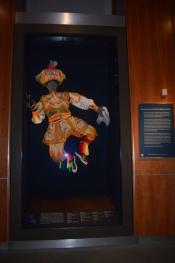 The museum's "
Circle of Dance
" exhibit is found on the first floor. Dance Ritual Costumes from across the Americas are on full display. Each is complete with elaborate masks, headdresses and brightly colored tunics. This exhibit gives visitors a chance to see the diversity of Native American dance and enlightens them in regards to customs and rituals. The vibrancy of the pieces and their life-like poses are incredibly engaging.
5
0
Enter the section header (optional)
Infinity of Nations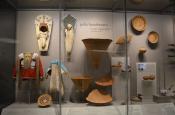 The second floor of the museum features the on-going exhibit entitled "
Infinity of Nations
," which has items of both history and art. Exhibits are divided into geographical regions, such as the Great Lakes, Western United States, the Caribbean, South America and Northern Canada. The artifacts range from standard bowls, hunting tools, and clothing to masks, drums, toys, and ceremonial garb. These exhibits give an informative lesson and highlight unique aspects of each culture. Walking the halls, one is seamlessly transported from hunting and harpooning whales in Alaska to serving traditional meals in Peru. The featured artwork focuses on modern Native American artists. These pieces are very contemporary in their tone and style, which creates a nice transition from the older artifacts on display. This exhibit uniquely blends the sentiments of old and new in a very natural way.
6
0
Enter the section header (optional)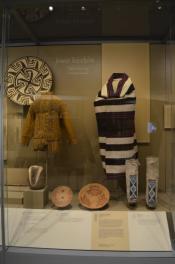 The NMAI also holds various public events throughout the year such as special exhibits, film screenings, storytelling events, as well as dance and theater shows. This museum is perfect for students who are learning about Native American history and culture. There is enough here to engage and inform, yet it is not overwhelming. Because of its additional focus on modern art, children with interests in this discipline will also have plenty to see.

In a city where everything seems to cost an arm and a leg, admission to this museum is free. And with Battery Park so close by, parents can plan an afternoon without paying a dime.

7
0
Enter the section header (optional)
Know before you go
: Please be aware that the building also serves as a courthouse, so there are metal detectors and baggage checks at each entrance. The procedure is not as intense as airport security, but the staff does require bags to be scanned. They are very accommodating and helpful when it comes to having your children pass through as well as checking your stroller. There is a second museum in Washington, DC. So,
when searching the website for events
, make sure you are looking in the New York section.
8
0
Enter the section header (optional)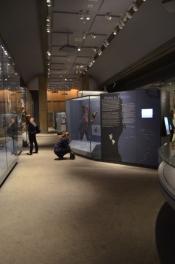 Location
One Bowling Green
(212) 514-3700
nmai.si.edu/visit/newyork

Hours
Sun - Wed: 10 am - 5 pm
Thu: 10 am - 8 pm
How to Get There
Subway:
4 & 5 trains to Bowling Green
*this station is right outside the museum and has the luxury of elevator access at the street level
1 train to Rector Street or South Ferry
R train to Whitehall Street
J & Z trains to Broad Street
2 & 3 trains to Wall Street
Bus: M5, M15, and M20
0
comments powered by

Disqus