Galli Theater Presents Little Red Riding Hood
1
2
Enter the section header (optional)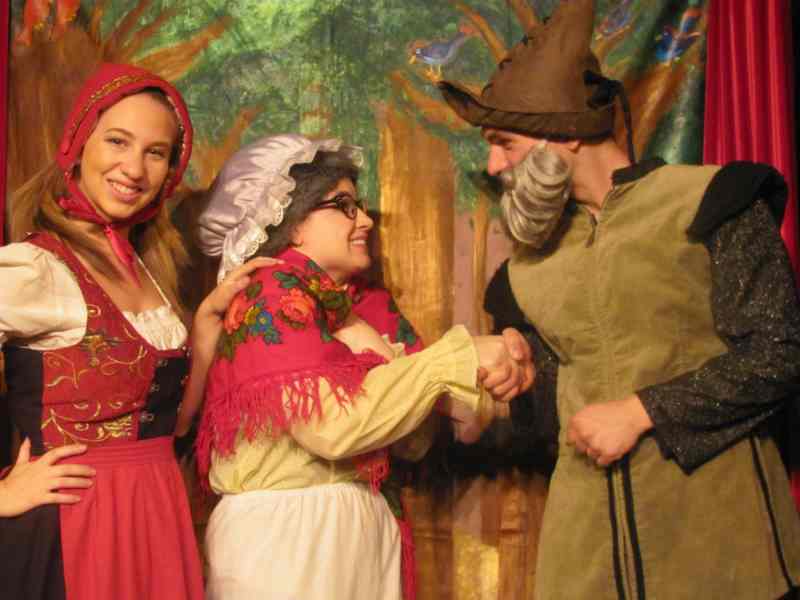 2
0
Enter the section header (optional)
Tucked away on West 36th Street inside the National Comedy Theater, the Galli Theater lets kids be kids. I arrived on Sunday afternoon just before curtain time for their new production of
Little Red Riding Hood
. Much to my surprise, and delight, kids weren't being told to behave themselves and mind their manners as they are in so many other places. They were encouraged to participate, to call out answers, and to interact with the characters on stage as much as they'd like. From warning Little Red Riding Hood about the Wolf to dancing along with the characters when called up on stage, this simple show made me laugh and clap with gusto.
3
0
Enter the section header (optional)
In addition to a rotating program of monthly shows, the performers at Galli Theater host children's birthday parties, teach theater workshops that give children the opportunity to work directly with the actors, and travel to shelters and hospitals to perform for children who otherwise would not have access to theater. Galli also runs a winter and summer acting camp for kids ages 3 – 10 and weekly acting classes.
Galli Theater is a sweet, approachable space for very small kids to get their first glimpse into the magic of theater. It reminds me of the traveling community groups that performed in my rural elementary school so many years ago. Eventually I went on to manage Broadway shows and national tours. That seed was planted when I was very young. I wonder if my eyes lit up then the way the eyes of these kids were lit up at Little Red Riding Hood. And who knows?! Maybe one of those kids is the next Sondheim.
This particular production of Little Red Riding Hood adds a few modern twists. There are a couple of references to Grandma using technology such as texting, tweeting, and email to let Little Red Riding Hood know she's sick. They're given with a wink and a nod for comedic value. The show also has a couple of original songs that the actors teach to the children and encourage them to sing in key places of the show. While the show keeps all of the production values very simple and minimal, the storytelling kept all of the children entertained and engaged for the entire show.
Little Red Riding Hood runs about 45 minutes in one act on Saturdays and Sundays at 2pm through October 27th. In November, they will perform
Rapunzel
and followed by
Snow White
in December. The Galli Theater is located at 347 West 36th Street in Manhattan. Tickets cost $20 for adults and $15 for kids. The post-performance workshops cost $15 per child. While the show is appropriate for kids of all ages, it is best suited for kids ages 3 – 8.
For information on the Galli Theater, please visit their
website
. Enjoy the show!
0
comments powered by

Disqus