Museum of Mathematics Makes It Possible For Kids and Adults to Play with Numbers
1
2
Enter the section header (optional)

18947
2
0
National Museum of Mathematics
40.743213
-73.987386
0
National Museum of Mathematics
1
1
2
Enter the section header (optional)
Does the word "math" elicit flashbacks of pop quizzes and have you hearing the "wah-wah-wah" of Charlie Brown's teacher? Put those days (and nightmares) behind you and visit the
Museum of Mathematics
(MoMath for short). This one-of-a-kind museum set out to make math applicable to every day life and illustrate that there is plenty of fun to be had when we physically interact with the world of numbers.
Inside its doors at 11 East 26th Street just off of 5th Avenue, we are invited to take a hands-on approach to math via 30 interactive exhibits. Through these exhibits, you'll:
3
1
Enter the section header (optional)
Learn why circles, ellipses, and hyperbolas are referred to as conic sections by using a laser to slice cones at different angles
Ride a square-wheeled tricycle that glides across the floor as smoothly as a round-wheeled tricycle
Walk (or dance, as I did) across a floor that is lit up by your movements
Visit the Enigma Cafe, in which you play a series of math mind games
Listen with your eyes to Harmony of the Spheres, which visually reveals the mathematical patterns in the chords used to create musical compositions
Take the opportunity to see yourself in fractals - those magical undercurrents that make sense of Jackson Pollock's seemingly chaotic paintings
4
0
Enter the section header (optional)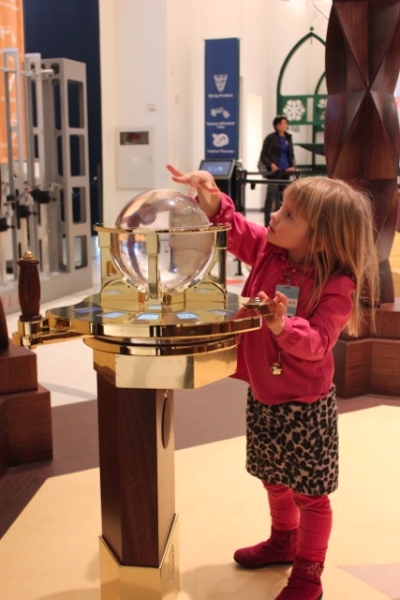 While the exhibits are fun for children and adults of all ages, fun is just the gateway to a deeper appreciation for and interest in math. The triumvirate of founders – Glen Whitney, Cindy Lawrence, and Tim Nissen – wanted the fun aspects of math to draw people in. Then they hope all visitors will ask that timeless and favorite question of children, "Why?"
This "why" is the part that is still searching for its sea legs. MoMath has received a bit of criticism here and there for being too complicated for math novices and too watered-down for math wizards. This criticism shouldn't deter anyone from taking a spin through its expansive space of 19,000 feet. The idea of this museum is not to give visitors a college degree in math; it's to entertain them and educate them enough to get them to see that math is all around us. It's in our bodies, our homes, all of our electronic devices, and indeed the basis of the entire natural world. We are already living in a world made of math; MoMath is making a play to place this truth at the forefront of our minds.
First impressions are everything, especially in education. If kids recognize math as fun, they're more likely to approach it with an open mind and apply themselves toward understanding it. MoMath's mission to demystify mathematics couldn't have come at a more critical time. Currently,
U.S. students rank 11th globally in 4th grade math and 9th in 8th grade math
. A mere 7% of U.S. 8th graders reach the advanced level in math, compared to 48% of 8th graders in Singapore and 47% of 8th graders in South Korea. Falling behind in math means we also fall behind in all of its related fields – science, technology, engineering, business, design, and the list goes on.
Math is everywhere, and it needn't be feared. It should be celebrated, and if MoMath has its way, it will be.
5
0
Enter the section header (optional)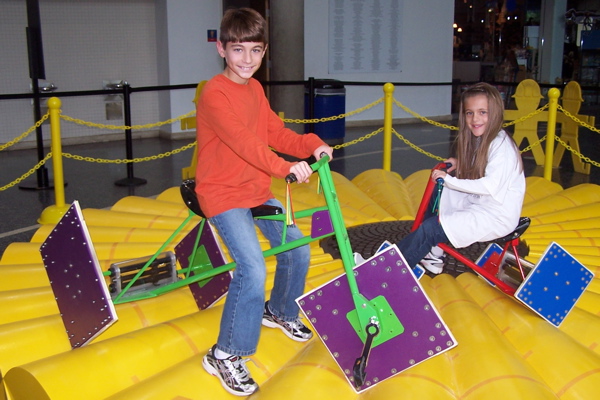 Plan your visit:
Museum of Mathematics
11 East 26th Street, New York, NY 10010, between Fifth Avenue and Madison Avenue. The Museum is open 7 days a week, from 10:00 AM to 5:00 PM. The Museum closes early the first Wednesday of every month, at 2:30 PM.
Admission ranges from $9 - $15, and a number of U.S. companies partner with the museum to offer free admission for their employees.
The museum is geared towards kids in grades 4 through 8, but there is plenty to engage younger kids, teens, and adults as well!
For more details, visit the
museum's website
:
0
comments powered by

Disqus