Registration for NYC Parks Summer Camp Approaching
1
2
Enter the section header (optional)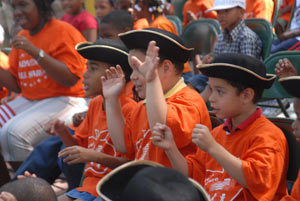 2
0
Enter the section header (optional)
On March 7, NYC Parks will open up registration for its annual Summer Day Camp program. The program is citywide with multiple locations in each of the five boroughs. Registration closes on Sunday, March 16.

This day camp is designed for children ages 6 to 13. The camp blends fitness and sports games with a variety of educational and cultural activities. Last year, this included educational and cultural trips, computer classes and field games (such as relay races, basketball and soccer). Depending on the location, additional day trips are coordinated with the Parks' Urban Park Rangers. Day trips can include bird watching, fishing, hiking and canoeing.

3
0
Enter the section header (optional)

Note that access to this camp is done by lottery. Since the number of children who apply to the camp often exceeds the number of slots available, a lottery is held to ensure equal opportunity.
The Summer Day Camp program starts on Monday, July 7 and runs through Friday, August 22.
The regular day camp (9AM to 5PM) costs $500 per child for 7 weeks. Some locations offer extended day camps (8AM to 6PM). The extended day camps cost $575 per child.
For a full listing of camp locations, visit the NYC Parks Summer Camp
registration page
.
0
comments powered by

Disqus