Summer Streets 2013
1
2
Enter the section header (optional)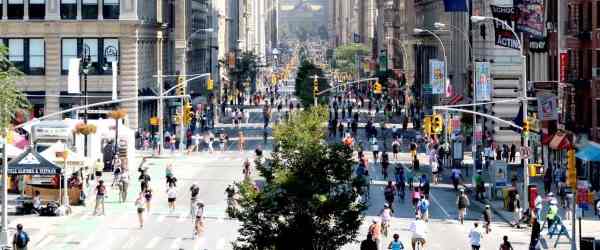 2
0
Enter the section header (optional)
For kids around the country, August marks the last month of Summer Vacation. It's a time to get those last days of outdoor enjoyment in before Labor Day hits, signaling the start of the school year. In New York City, Saturdays offer particular fun in August – and not just because of the block parties.
Summer Streets
is the city's annual celebration NYC's streets. For three consecutive Saturdays, the city opens up seven miles of street for recreation. Parents can take their kids out to play, walk, bike and enjoy city life sans automotive traffic.
3
0
Enter the section header (optional)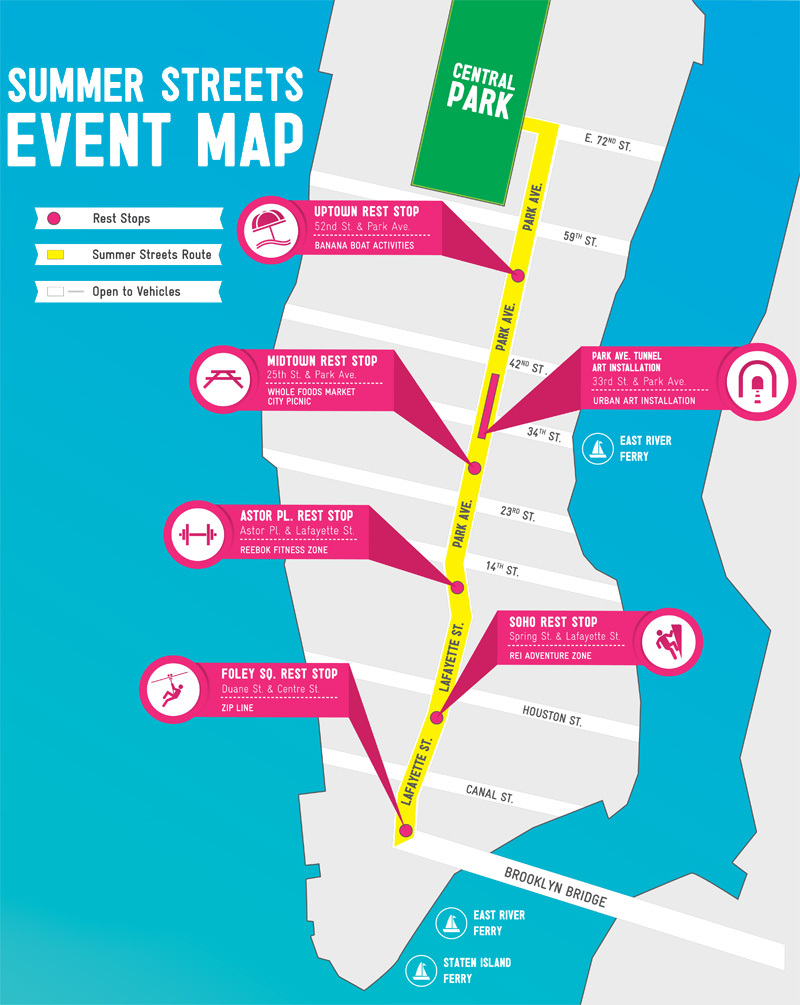 Starting August 3rd, the city opens up Park Ave from Brooklyn Bridge to Central Park between the hours of 7AM and 1PM. There are several FREE activities to do along the path as well as its connecting streets.

Starting at the Foley Square Rest Stop, near the Brooklyn Bridge, you can enjoy dance, music and theater activities. This is one of the more packed rest stops so you can plan your entire day around Foley Square if you'd like. There are free Yoga classes, a zip line and fitness tests. The Creative Movement dance studio will perform parkour demonstrations, which children should be delighted to watch. Also, the Staten Island Yankees will be around for some baseball activities.

4
0
Enter the section header (optional)
Summer wouldn't be summer without water activities. Foley Square will also feature CoolStop by Chat Travieso. This is a prototype water mister that offers a fun way to cool off. Finally, Bike and Roll will offer free bike rentals and there will be baked goods available from the Cooking Channel.
5
0
Enter the section header (optional)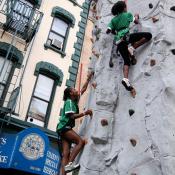 At the Soho Rest Stop, parents and older kids can check out the rock-climbing wall. There's also a mysterious rain shower at the REI Adventure Zone, which allows you to shower without getting wet. Bicycle Habitat will be on hand to give free bike repairs.

The Astor Rest Stop is less of a rest stop and more of a fitness activity. There will be fitness and cross training classes throughout the morning as well as 4K and 10K run along the Summer Streets route.

6
0
Enter the section header (optional)
The Midtown Rest Stop gets back to more family friendly activities. Whole Foods will be providing treats and samples in a picnic-style format. You can also rent free rollerblades from Rollerblade and take home a free bike helmet courtesy of DOT Safety Education. This is definitely a stop you want to visit to get that much needed bike helmet for your child – for FREE. You can also take bike lessons from Bike New York, which offers regular bike classes for kids.
7
0
Enter the section header (optional)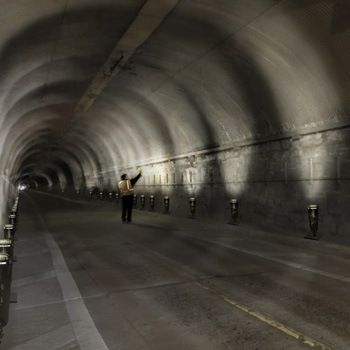 At the Park Avenue Rest Stop, you can see the Voice Tunnel by Rafael Lozano-Hemmer. This will be the first time the Voice Tunnel will be open. It's an interactive sound and light installation. The 1,400 foot-long installation features 360 theatrical spotlights. The lights' intensity is influenced by sound so this is a very fun activity for children. Voices will be recorded and looped through 180 loudspeakers.
8
0
Enter the section header (optional)
The Uptown Rest Stop is just below Central Park. This has some of the most family friendly activities. In the "Sun Zone," families can enjoy Banana Boat activities, which include: a water sprinkler, sand art, an interactive photo booth and lounge chairs. There are also more dance, music and theater performances as well as free bike rentals. You'll also have a lot of fun with Risa Puno's interactive art installation, Course of Emotions. This is actually a 9-hole miniature golf setup that is part maze, part emotional rollercoaster of fun.
9
0
Enter the section header (optional)
Summer Streets will be held Saturdays, August 3rd, 10th and 17th from 7am - 1pm.

0
comments powered by

Disqus