The Week Ahead: December 14 through December 20
1
0
Enter the section header (optional)
The force is strong in this holiday season. But Star Wars: The Force Awakens isn't the only reason to venture outdoors this week. We've picked out several dance, musical, theater and puppet shows to enjoy around the city. And, why not go outside? Next week is the official start of winter and the weather still feels like fall in October. This week, we're enjoying lollipops in the morning, listening to an orchestra celebrate Charlie Brown, celebrating Christmakwanzukah and heading out to the opera. Here are our picks for the week ahead.
2
0
Enter the section header (optional)
Limited Engagements This Week:
3
0
Enter the section header (optional)
Lollipops for Breakfast

On Saturday, Dec 19, Symphony Space is giving kids on the UWS a sweet start to their weekend. Bonnie Duncan will be performing her show, "Lollipops for Breakfast," as part of Symphony Space's Just Kidding series. In this musical, Sylvie tries to make her own lollipops so that she can have them for breakfast. Her pet bird will join her on a quest for missing ingredients as they wrestle with giant candy machines and get lost in a magical pop-up cookbook. The show features puppets and kid-friendly music. There are two shows on Saturday at 11AM and 2PM. Tickets are $15. The show is approximately 60-minutes long.
4
0
Enter the section header (optional)
Magic Flute

This weekend, you can take your kids to enjoy a screening of the "The Magic Flute" at BAM. While the show is labeled, "The Met: Live in HD," it is actually a recording of an earlier live performance. This is Julie Taymor's shortened English-language production of Mozart's timeless fairy tale. It's a nice mix of whimsical humor and vibrant puppetry for younger audiences. The show is performed under the baton of maestro James Levine and features the winning ensemble cast of Nathan Gunn, Ying Huang, Matthew Polenzani, Erika Miklosa, and RenÚ Pape. Tickets are $28. It's a little pricy for a screening, but cheaper than seeing an actual live MET show of this caliber. The screening takes place at 11:30 AM on Saturday, Dec 19.
5
0
Enter the section header (optional)
Kids 'N Comedy: Christmakwanzukah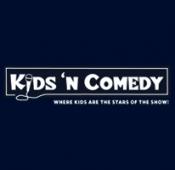 Merry and Happy Christmakwanzukah! That's right, Gotham's funniest kids are back for another year of humor. On Dec 20, Gotham's Kids 'N Comedy celebrate Christmakwanzukah. It's an all-inclusive made up name. This show is designed for kids ages 9 and up and is performed by kids. Kids will explore the humorous side of family togetherness, the quest for joy and strange religious traditions. It's also a chance to hear just how much they didn't like the gifts you picked up for them last year. Tickets cost $15. Everyone is also required to purchase at least one food or beverage item. The show begins at 1PM. Doors open at 12:30PM.
6
0
Enter the section header (optional)
A Charlie Brown Christmas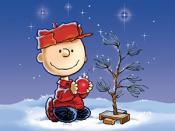 There are some holiday movies and TV specials that are timeless. "A Charlie Brown Christmas" is one of those great programs that spans generations of viewers. On Sunday, Dec 20, you can enjoy Christmas with Charlie Brown a little differently. Take your kids to Carnegie Hall to see The New York Pops deliver a musical tribute to Charles M. Schulz' iconic television special. The program includes a sing-along section as performers from around NYC celebrate the 50th Anniversary of "A Charlie Brown Christmas." Tickets range from $10 to $25.
7
0
Enter the section header (optional)
Opening This Week:
8
0
Enter the section header (optional)
Star Wars VII: The Force Awakens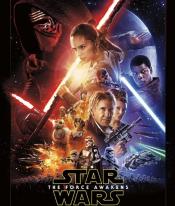 This weekend, all eyes will be on the latest iteration in George Lucas' famed franchise. Star Wars: The Force Awakens has been on several kids' minds for the past few months. After the release of numerous Lego toys, Disney Infinity games and commercials, it's clear that the force is already dominating the holiday season. This movie takes place 30 years after the events in Star Wars: Episode VI - Return of the Jedi. While it may not be a Minions or Pixar movie, science fiction lovers young and old will join forces to celebrate this release. Star Wars: The Force Awakens opens in theaters on December 18.
9
0
Enter the section header (optional)
The Barber of Seville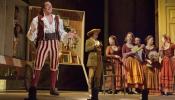 On Dec 16, The Barber of Seville will open up at the Met Opera. This is a great opera to introduce to kids in middle school and high school teenagers. It is an English-language, two-hour adaptation of one of opera's most winning comedies. For opera lovers, this production of Rossini's masterpiece features the charming mezzo-soprano Isabel Leonard, revisiting her portrayal of Rosina, the girl who behaves perfectly - until anyone gets in her way. Tickets to this show are also half off for audience members 18 or younger. The show runs through January 2. Ticket prices start at $25.
10
0
Enter the section header (optional)
Closing This Week:
11
0
Enter the section header (optional)
The Hard Nut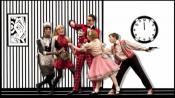 This Sunday, Dec 20, will be your last chance to check out the Mark Morris Dance Group's reimagined Nutcracker at BAM. This retro-modern show features comic book art, winter beauty, lively costumes and modern dance choreography. The show is a lavish, gender-bent love letter to the classic performance. It transplants the story from the straight-laced 1890s to the swinging 70s, with raucous parties, dancing G.I. Joes, whimsical costumes, and a Waltz of the Snowflakes. Tickets start at $25. This one is great for teen audiences.
12
0
Enter the section header (optional)
Rigoletto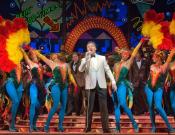 There are only a few more days to enjoy Rigoletto at the Met Opera. Bring your teens to see ┼Żeljko Lu─Źi─ç reprise his acclaimed performance of the title role. This opera is set in 1960 in a Las Vegas casino. Piotr Beczala sings the licentious Duke and Nadine Sierra, in her Met debut, is Gilda, Rigoletto's innocent daughter. Roberto Abbado conducts Verdi's timeless tragedy. Rigoletto closes on Dec 17. Tickets start at $25.
0
comments powered by

Disqus