Upper West Side Toy Stores Roundup - Part 1
1
0
Enter the section header (optional)
Is it just me or does every parent with young children find the number of birthday parties for their child's classmates and friends, thus sheer number of birthday presents you have to buy for said children, overwhelming? I consider myself one of the lucky moms as my son's class only has 13 kids! Thankfully he isn't invited to the "girl-only" parties so my gift buying obligations are significantly reduced.

Here's a round-up of some of the Upper West Side's great selection of "traditional" toy stores where you can find just about anything:
6364
2
0
West Side Kids
40.786618
-73.976181
0
West Side Kids
0
0
0
Enter the section header (optional)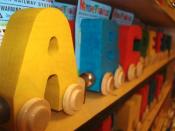 West Side Kids
This neighborhood favorite has a wide selection of toys, games, books and gifts for children up to about age 12. The store layout makes it easy to shop as it has newborn and toddler items in one section and other age-appropriate items throughout the rest of the store including: board games, sports and outdoor play, cool travel toys and other seasonal items. The staff is very friendly and helpful, and they provide free gift-wrapping. I especially love the signs in their windows that encourage you to buy local and make you feel guilty for buying from those guys in Seattle!
19981
3
0
Very Good Toys West
40.787222
-73.977148
0
Very Good Toys West
0
0
0
Enter the section header (optional)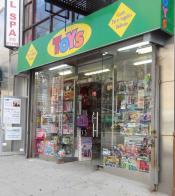 Very Good Toys West
Located just around the corner from West Side Kids (there are obviously a lot of kids living in this one-block radius!), Very Good Toys West is a virtual one-stop shop and I can always find something amongst their selection of top toy brands such as: Playskool, Melissa and Doug, Hot Wheels, LEGO, and Playmobil. They also have a great selection of supplies for any type of birthday party including a large assortment of balloons that can be filled on the premises.
6270
4
0
Barnes & Noble
40.786098
-73.9786
0
Barnes & Noble
0
0
0
Enter the section header (optional)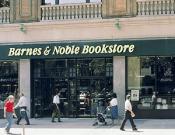 Barnes & Noble
Even with the growing popularity of e-books I still love buying "real" books as gifts and thanks to Barnes & Noble and its great cross-marketing thinking, I can buy great toys and games too! While they tend to carry more educational and instructive items such as science kits, board games and arts & crafts sets, they do offer a nice selection of toys and games for newborns through about age 12. The store's layout by age group and activity makes it easy to find the perfect gift.
6313
5
0
Homboms
40.782524
-73.975262
0
Homboms
0
0
0
Enter the section header (optional)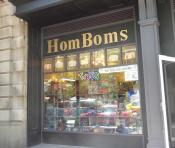 Homboms
A great toy store with everything you need, or your kid wants! While they offer the same types of toys as most traditional stores, HomBoms is in a larger space with a slightly wider selection. You can find everything from Barbie's and Hot Wheels to musical instruments, outdoor sports play items and ride-on toys. Beware of the cash wrap and aisle end caps, especially if you have your little one in tow as they are packed with "small" items that are at just the right height for them to add to your purchase! Located across the street from the Museum of Natural History, the Upper West Side neighborhood is fully covered with toy stores on Broadway, Amsterdam and Columbus!
6
0
Enter the section header (optional)
Baby Stores
– although these stores are mainly for baby items they also offer toy and gift items for a variety of ages, but mainly newborns to preschoolers. Fortunately for Upper West Siders, baby stores are strategically located for maximum coverage for the entire neighborhood.
6340
7
0
Planet Kids
40.776334
-73.983095
0
Planet Kids
0
0
0
Enter the section header (optional)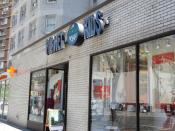 Planet Kids
The Upper West Side location is on the smaller side, but they have a nice variety of toys, books and games and the staff is always friendly and helpful. While some say they tend to be a bit pricier than the more traditional toy stores in the neighborhood, I actually think they're on par. Also, you can't beat the convenience factor if you live in one of the many high-rise apartment buildings in the vicinity. As most other toy stores, they always have a dollhouse or train setup right in the middle of the store to keep the little ones busy while you shop. And like most baby stores, there is a good selection of strollers, high chairs, playpens, clothing, and other baby items.
6307
8
0
Giggle
40.781657
-73.979612
0
Giggle
0
0
0
Enter the section header (optional)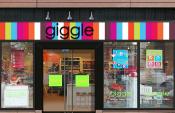 Giggle
A more high-end baby store offering toy, gift and clothing items, Giggle tends to be geared towards parents of newborns and small children. Like Planet Kids, they too offer a selection of strollers, bassinets, cribs, high chairs and other essential and specialty baby items. When my son was a newborn, the only diaper cloth we could use on him was an organic blend from Giggle, but of course, the only location at the time was on the Upper East Side! Nice to now have them in the neighborhood!
6262
9
0
Albee Baby
40.792999
-73.971298
0
Albee Baby
0
0
0
Enter the section header (optional)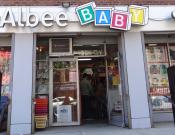 Albee Baby
A full-service baby store offering a variety of toys, gifts and books and a wide selection of essential baby items such as car seats, strollers, travel gear, furniture, high chairs and clothing. Like other baby stores, Albee's age range for toys tend to be for newborns through preschoolers, but the store has a nice selection of items including: active play, stuffed animals, dolls, ride-on toys, trains & vehicles, arts & crafts, educational toys and pretend play. In addition to the store being a true one-stop-shop, they have a full website that's so easy to navigate – and offers free shipping on orders over $49.
10
0
Enter the section header (optional)
7
comments powered by

Disqus