LARD: Life's A Real Dream // All-Ages Musical Extravaganza

(event is expired)
Location:
Description:
Affordable, engaging, as unique as a show can get. (Don't worry, kids, this show will babysit your parents!)

Join us for an all-ages musical extravaganza that promises to entertain adults and kids alike. The Human Lard Dog is a cartoon character come-to-life who descends from planet Belopio on his Giant Pretzel to take you and your family on a musical journey of absurdism, frivolity, and unbridled joy. Lard Dog and his 6-piece Band of Shy invite you to their unique audio-visual universe complete with catchy songs, multi-media graphics—including art by star cartoonists Tony Millionaire and Sam Henderson— and a pretzel toss! Come play along and slurp the noodle of life! After all, Life's A Real Dream.

Cast:
The Human Lard Dog: Steven Erdman
Honey Babe: Kendy Gable
Schwington Boogie: Jeremy Beck
B. Happy: Akira Ohiso
The Lady Wonga: Rosa Avila
Marcel Bauhaus: Pablo Kessel
He's Ploop! (Treat Him Nice): Jason Dole
Giant Pretzel: Giant Pretzel
Dates and times:
Saturdays through January 2 at 11:00 AM
Cost:
$20
Event website:
www.houseoflard.com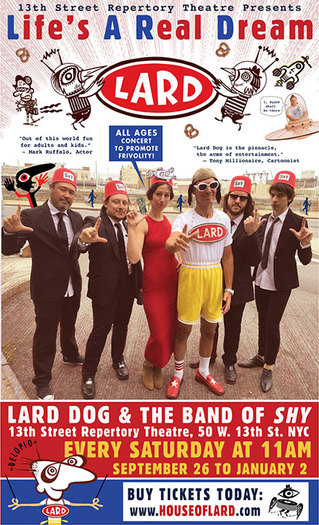 All Upcoming Events

Reviews
There are no scheduled events.
There are no reviews yet for this event.