Carnegie Kids: Rani Arbo & daisy mayhem

(event is expired)
Location:
LaGuardia Performing Arts Center
Neighborhood: Long Island City
31-10 Thomson Ave (Inside LaGuardia Community College) (Btwn 31st St & Van Dam St)
Queens, NY 11101
(718) 482-5151
Description:
With their silky four-part vocal harmonies and colorful mix of fiddle, guitar, bass, and percussion, Rani Arbo & daisy mayhem's style of downhome music grabs you. Marvelous and moving in a touching Appalachian ballad or Bahamian folk song, and funky in a gutbucket Mississippi blues (sung to the beat of a drum-kit built from 100% recycled materials), this is music that gets kids and parents dancing.
Dates and times:
Wednesday, April 9 at 10:00 AM
Wednesday, April 9 at 11:30 AM
Cost:
Free
Event website:
www.carnegiehall.org/Calendar/2014/4/9/1000/AM/Carnegie-Kids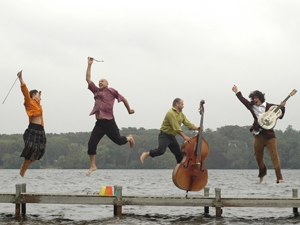 All Upcoming Events

Reviews
There are no scheduled events.
There are no reviews yet for this event.