Big Adventure
Location:
Description:
The Big Adventure exhibit opening to general public. Test your skills and push your limits with our new visiting exhibit!
Dates and times:
Daily except Monday from 10:00 AM to 5:00 PM
Cost:
Free with Museum admission: $9; Free for members and children under 1 year of age.
Event website:
www.brooklynkids.org/index.php/comingup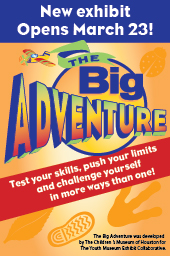 All Upcoming Events

Reviews
There are no scheduled events.
There are no reviews yet for this event.