Steal Away: The Living History of Harriet Tubman

(event is expired)
Location:
New Perspectives Theatre
Neighborhood: Midtown West / Theater District
458 W 37th St (At 10th Ave)
New York, NY 10018
(212) 630-9945
Description:
Running time is appoximately 60 minutes; the program is suitable for children ages 4-12.

Using puppets and live actors, award-winning writer Rick Balian tells the story of one of America's greatest heroines—from her youth as a slave to her service on the Underground Railroad and her continuing efforts to help others in need throughout her lifetime. A native of Auburn, New York (where Harriet lived until her death) Balian's research for the play included dozens of interviews with Harriet's descendents and the curator of the Harriet Tubman home.

Steal Away is part of NPTC's World Voices Program, which offers fables and folktales from different cultures for young audiences and their families. After the 30-minute performance, children will get to meet Harriet and learn about how Negro spirituals were actually used as coded messages for slaves escaping to freedom. They also get to learn two of the songs, and sing along with Harriet. The presentation concludes with an introduction to the puppets, who join the actors in the audience and interact directly with the kids!
Dates and times:
Saturdays and Sundays through February 23 at 10:30 AM
Cost:
Pay-what-you-can-afford (minimum of $5)
Event website:
www.newperspectivestheatre.org/programs/stealaway2014.html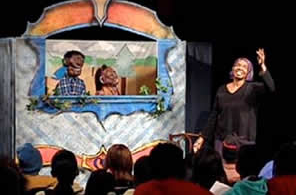 All Upcoming Events

Reviews
There are no scheduled events.
There are no reviews yet for this event.