Pedal Punk

(event is expired)
Location:
New Victory Theater
Neighborhood: Midtown West / Theater District
209 W 42nd St (Btwn 7th Ave & 8th Ave)
New York, NY 10036
(646) 223-3010
Description:
Cirque Mechanics
Las Vegas, Nevada

This holiday season, the spectacular Cirque Mechanics (Boom Town, New Vic 2011) rolls into town with moxie The New York Times calls "exceptional, evocative, eye-catching, ear-catching and, to keep the list short, engrossingly entertaining!" In the steampunk-styled PEDAL PUNK, featuring a 20-foot-high, pedal-powered mechanical masterpiece, the powerful performers amaze with a heart-pounding pole drop, awesome aerial acts and high-flying tricks (on a trampoline!). With every spin of a sprocket and rattle of a wrench, the quirky cast of characters transform a bevy of bikes into an astounding assortment of acrobatic apparatus in this adrenaline-fueled circus for the whole family.

2 hours including one intermission

Parental Considerations:
Contemporary circus and variety acts. Created for audiences of all ages. Great for groups, parties and extended family.
Dates and times:
Fridays and Saturdays through December 19 at 7:00 PM
Saturdays through December 26 at 2:00 PM
Sundays through December 27 at 12:00 PM
Sunday, December 13 at 5:00 PM
Tuesdays and Wednesdays through December 23 at 7:00 PM
Saturday, December 26 at 7:00 PM
Sunday, December 27 at 5:00 PM
Wednesdays and Thursdays through December 31 at 2:00 PM
Wednesday, December 30 at 7:00 PM
Cost:
Tickets start at $19
Ages:
5 - 18 years
Event website:
newvictory.org/Show-Detail?ProductionId=6806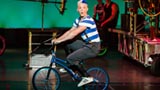 All Upcoming Events

Reviews
There are no scheduled events.
There are no reviews yet for this event.