NYICFF: Jack and the Cuckoo Clock Heart

(event is expired)
Location:
SVA Theatre
Neighborhood: Chelsea / Midtown South
333 W 23rd St (Btwn 8th Ave & 9th Ave)
New York, NY 10011
(212) 592-2980
Description:
France, Malzieu/ Berla, 2013, 89 min
Recommended Ages: 8 to Adult (In English)

NORTH AMERICAN PREMIERE - Jack is born on a day so cold that his heart freezes. In its place he is given a mechanical wind-up heart, which comes with some very peculiar rules – the gravest of which is that he is forbidden from falling in love. Yet when a chance encounter with an equally unusual girl sends him on a journey from his native Edinburgh to Andalusia, Jack decides to challenge the rules that govern his very existence.

Nothing in Jack and the Cuckoo Clock Heart is executed on a small scale: sweeping expanses of Andalusian countryside are dotted with extravagant circus towns and snow-covered mountaintop villages; trains get around corners with accordion folding centers; phantasmagoric characters with delicate alabaster skin look like porcelain dolls that would live atop Tim Burton's desk; and every nook and cranny of the film is filled with ghoulish romantic delights. Produced by Luc Besson, who gave us the 2012 opening night A Monster in Paris, this breathtaking gothic musical is the passion project of writer/director/composer Mathias Malzieu, adapted from his best-selling novel and the 2007 concept album from his rock band Dionysos.
Dates and times:
Saturday, March 22 at 6:30 PM
Cost:
$13
Ages:
6 - 18 years
Event website:
gkids.tv/intheaters.cfm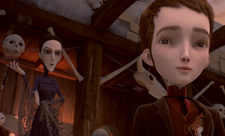 All Upcoming Events

Reviews
There are no scheduled events.
There are no reviews yet for this event.