The Little Mermaid The Musical

(event is expired)
Location:
The Players Theatre
Neighborhood: West Village
115 MacDougal St (Btwn W 3rd St & Minetta Ln)
New York, NY 10012
(212) 352-3101
Organized by:
Literally Alive
Description:
The Story:

Once upon a time there was a little mermaid who dreamed of the day when she would finally be old enough to explore the wonders of the world above the sea. When her turn comes, she is not disappointed. In fact she saves a young prince from drowning in a shipwreck and falls deeply in love with him. Now her longing increases, as she desires to become a mortal so she can marry her young prince; but as with all dreams, there are sacrifices. The little mermaid soon learns that getting her wish means making hard choices. She also learns how much she is willing to give up for someone she loves.


The Show:
Everyone will enjoy our live percussion ensemble playing a variety of songs including "The Mermaids Ball" not to mention the beautiful sets and costumes. The talented cast is headed up by the mermaid sisters, Coral (the little mermaid), Shelly and Pearl, a comic-singing trio featured in numbers like "Deep Sea Blues" and "Longing to See Anything but Sea". No telling of "The Little Mermaid" would be complete without the evil Fish-witch, played by our beloved Brianna Hurley,the "Diva of the Deep". In her own mini-cabaret act, she reveals the truth about herself to the audience as she brings the house down belting out "Misunderstood". Literally Alive favorite, Eric Fletcher (The Beast, The Selfish Giant and Marley), heads up the cast as the loving father, King Neptune. Parents will easily identify with the trials he endures while raising his six mermaid princesses. He tries to offer valuable advice in "Pearls of Wisdom" and reflects on the laughter and tears of parenthood in "Loving and Letting go".


The Workshop:

Don't miss this opportunity to meet some members of the cast and artistic team. Prior to each performance, families' may participate in an arts workshop. Here the audience discovers how different art forms bring literature to life. They learn some of the movement and music from the show and create a sea creature that glows in the dark when placed on the stage. We highly recommend joining us in the workshop to get the full "Literally Alive" experience!

Ticket includes a FREE family workshop one hour PRIOR to every show. For more info about our workshops visit:

http://www.youtube.com/watch?v=Lfn5JXIzJEM
Dates and times:
Saturdays and Sundays through April 19 at 11:00 AM
Saturdays through April 19 at 3:00 PM
Thursday, February 20 at 2:00 PM
Thursday, April 17 at 2:00 PM
Saturdays and Sundays through April 27 at 11:00 AM
Saturday, April 26 at 3:00 PM
Cost:
Tickets:
$45 for first 4 rows
$35 for second 5th – 10th rows
$25 for all other seats
Event website:
literallyalive.com/shows/mermaid.html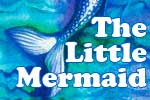 All Upcoming Events

Reviews
There are no scheduled events.
There are no reviews yet for this event.