Screening of Miracle on 34th Street

(event is expired)
Location:
United Palace Theater
Neighborhood: Washington Hts / Inwood
4140 Broadway (At W 175th St)
New York, NY 10033
(212) 568-6700
Description:
"Miracle on 34th Street"
Sunday, December 20, 2015, 04:00pm
"Women Of Fox Film Festival"

Doors open at 4pm; Pre-show entertainment at 5pm; movie at 5:30pm.

Pre-show caroling

Intro by New York Post Chief Film Critic Lou Lumenick and classic film blogger Will McKinley

Where a tuxedo or gown and get in for free!

Monroe. Grable. Temple. Miranda. Wood. Bara. These actresses, so famous they are known simply by their last names, helped build Fox Studios and then 20th Century Fox by starring in some of the greatest movies ever shown on a big screen. To mark the 100th anniversary of the founding of Fox Studios in Fort Lee, NJ, the United Palace of Cultural Arts (UPCA) and Fort Lee Film Commission are teaming up to present "The Women of Fox Film Festival" with five movies spread over four dates through the end of the year

The festival's last selection is "Miracle on 34th Street" (1947). In this Christmas classic, an old man going by the name of Kris Kringle (Edmund Gwenn) fills in for an intoxicated Santa in Macy's annual Thanksgiving Day parade. Kringle proves to be such a hit that he is soon appearing regularly at the chain's main store in midtown Manhattan. When Kringle surprises customers and employees alike by claiming that he really is Santa Claus, it leads to a court case to determine his mental health and, more importantly, his authenticity. Features 8-year-old Natalie Wood's breakthrough performance. Directed by George Seaton. 96 min. Shown on DVD with Spanish subtitles.

Learn more about "The Women of Fox Film Festival: here: http://unitedpalace.org/film/661-the-women-of-fox-film-festival

Purchase tickets: https://web.ovationtix.com/trs/pe.c/10027458
Dates and times:
Sunday, December 20 at 4:00 PM
Cost:
Tickets: $10 adults/$5 children under 12 and seniors online; $15 adults/$8 children under 12 and seniors at the door
Event website:
unitedpalace.org/upca-calendar/icalrepeat.detail/2015/12/20/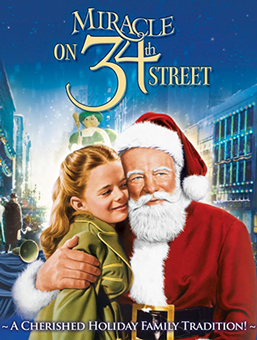 All Upcoming Events

Reviews
There are no scheduled events.
There are no reviews yet for this event.