BAM Howard Gilman Opera House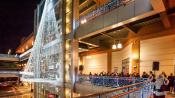 About

Reviews and Tips

Upcoming Events
Description:
The BAM Howard Gilman Opera House makes a stunning first impression on any audience. Designed and built at the turn of the 20th century by architects Herts and Tallant (who were also responsible for the Lyceum and New Amsterdam Theatres), this elegant performance venue has hosted rentals by some of the world's most prestigious artists, including Adele, Rufus Wainwright, Sarah Silverman, New York City Opera, American Ballet Theatre, and Feist.

Blending classic Beaux Arts style with a state-of-the-art sound and lighting system—and an expert production staff—the BAM Howard Gilman Opera House is the perfect setting to make your event a memorable one.
Categories and features:
Activities and Places

Concerts and Shows
Event Spaces

Events
There are no scheduled events.