Gazillion Bubble Show

1 review
Neighborhood: Midtown West / Theater District
340 W 50th St (New World Stages) (Btwn 8th Ave & 9th Ave)
New York, NY 10019
(212) 239-6200
www.gazillionbubbleshow.com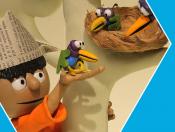 About

Reviews and Tips

Upcoming Events
Hours:
Shows:
Fri: 7 pm
Sat: 11 am, 2 pm, 4:30 pm
Sun: 12 pm, 3 pm

Summer shows:
Wed: 11 am, 2 pm
Description:
A fun-filled family affair, the Gazillion Bubble Show amazes audiences with mind blowing bubble magic, music and a laser light show, making it the most UNBUBBLIEVABLE show in the world for the past seven years!
Admissions:
$55-$75
Categories and features:
Activities and Places
Birthday Parties

July 29, 2011
1311952913
LOVED, LOVED, LOVED this inventive show. Lots of bubbles and just good ole' fun! If you have kids you MUST go see this show. Who wouldn't like oodles and oodles of bubbles showering all over the place?
There are no scheduled events.