Make Meaning

1 review
Neighborhood: Upper East Side
1501 3rd Ave (Btwn E 84th St & E 85th St)
New York, NY 10028
(212) 744-0011
www.makemeaning.com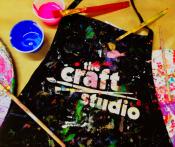 About

Reviews and Tips

Upcoming Events
Hours:
Mon-Thur 10am-9pm
Fri-Sat 10am-10pm
Sun 10am-8pm
Description:
To book a class with Make Meaning, call the number listed or email UESinfo@makemeaning.com.
Categories and features:
Activities and Places

Indoor Activities
Pottery Studios

Kids Classes
Birthday Parties

June 1, 2012
1338578042
pristine space and filled with wonderful things to work on. there is an array of activities. soap making, ceramics, jewelry making, cake decorating and more. the bathrooms are spacious and super clean. the staff is so helpful and knowledgable. the only downside is space is somewhat limited if it's crowded. and things can get costly quick! as long as you rein the kids in and don't let them see the toys and goodies for sale by the cash register you can make it out of there alive!
There are no scheduled events.