The Art Farm in the City

1 review
Neighborhood: Upper East Side
419 E 91st St (Btwn 1st Ave & York Ave)
New York, NY 10128
(212) 410-3117
theartfarms.org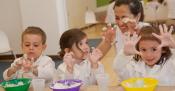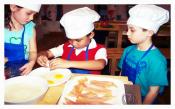 About

Reviews and Tips

Upcoming Events
Hours:
Mon - Fri: 9 am - 5pm
Sat - Sun: 8 am - 10 am
Description:
We are an eco-friendly and organic facility teaching children about nature, animals and how to better care for our planet through classes and drop-in programs every day! In each of our classes, you get the opportunity to enjoy and learn on our magical, USDA licensed, indoor petting zoo has a wide variety of animals including bunnies, chinchillas, guinea pigs, lizards, turtles, birds, tropical fish and more. You might even spot pigs, chickens, goats and sheep sometimes!

Whether you are in our Adult & Me class, "Rocks, Smocks & Animals" (ages1-4) rockin' with our guitarist & meeting a "star of the week" animal friend or baking amazing treats in our "Farm Foodies" cooking class (ages 2-8, after-school & weekends), or even getting a hands on science class in our after-school Animal Care Class (ages 4-8), you will be sure to leave The Art Farm with a one-of-a-kind experience you can not find anywhere else in NYC!
Admissions:
Drop-off is available for kids 2.5 years and up.
Categories and features:
Kids Classes

After School Programs (ages 4 - 10 yrs)
Animal Care Classes
Art Classes (ages 1 - 12 yrs)
Baby and Toddler Classes
Combo Classes (ages 1 - 4 yrs)
Cooking Classes (ages 2 - 8 yrs)
Language Classes
Music Classes (ages 1 yr 3 mths - 3 yrs)
Playgroups (ages 6 mths - 8 yrs)
Separation Classes (ages 2 - 2 yrs)
Classes and Lessons Features: Drop-in Classes, Open Play

Activities and Places

Animal Activities
Storytime

Birthday Parties

Arts Theme Parties
Cooking Theme Parties
Live Animals
Party Venues
Princess Theme Parties
Science Theme Parties

Schools and Camps

Preschools (ages 2 - 3.5 yrs)
Summer Camps and Programs (ages 3 - 7 yrs)

October 4, 2011
1317701102
This little nook is quite a gem. they have a basement filled w/ animals including a tortoise that walks freely. the staff is very calm and nice and handle the kids and animals well. we went for a b-day party and it was so nicely done. the party included singing, music, a lil parachute action, painting piggy banks and then onto the animals. there were chickens, a large fish tank, rabbits, a skink, and more.....very cute place!!

Sun
Aug 18
Mon
Aug 19
Tue
Aug 20
Wed
Aug 21
Thu
Aug 22
Fri
Aug 23
Sat
Aug 24

There are no scheduled events on Sunday, August 18, 2019.
There are no scheduled events on Monday, August 19, 2019.
There are no scheduled events on Tuesday, August 20, 2019.
There are no scheduled events on Wednesday, August 21, 2019.
Viewing events for: Thursday, August 22, 2019
There are no scheduled events on Friday, August 23, 2019.
There are no scheduled events on Saturday, August 24, 2019.