My Spot 4 Kids

1 review
Neighborhood: Upper West Side
167 W 81st St (Btwn Columbus Ave & Amsterdam Ave)
New York, NY 10024
(646) 756-4828
MySpot4Kids.com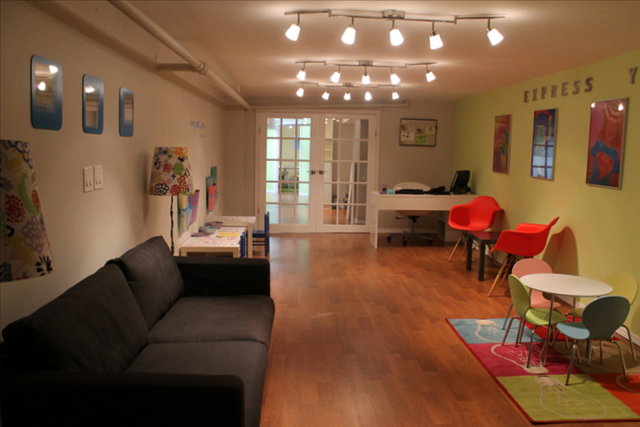 About

Reviews and Tips

Upcoming Events
Hours:
Mon-Fri 10am-7pm
Description:
MY SPOT FOR KIDS is a warm pediatric-based Center that offers speech language therapy, social groups, and Enrichment Programs.

Our speech language pathology practice that screens, evaluates, and provides innovative and individualized treatment to meet the specific needs of every child.

OUR PURPOSE is to provide a nurturing and motivating environment that inspires children to reach their utmost potential towards their speech, language, and cognitive goals.

OUR GOAL is to facilitate the transition from the therapy room to your child's natural environment by encouraging active participation with individuals involved in your child's life. Our therapists work together with families, caregivers, teachers, and other field related professionals, in determining an individualized plan that addresses the immediate and long term needs of your child.

KINDERCORE ENRICHMENT PROGRAM - CONQUER THE COMMON CORE

Elementary school can be a challenging transition for youngsters. From English language arts to science, students are expected to have mastered a certain level of higher order thinking skills by the time they complete the fifth grade.
According to the New York State P-12 Common Core Standards for English Language Arts and Literacy, "The K–5 standards include expectations for reading, writing, speaking, listening, and language applicable to a
range of subjects, including but not limited to ELA." (Shared responsibility for students' literacy development, para. 1.)

In preparation for meeting the new COMMON CORE standards, My Spot for Kids offers a year-round program taught by our highly skilled licensed speech language pathologists. Our goal is to support the development of your child's critical thinking, analytical, and problem solving skills in-order to facilitate academic success across all subjects and conquer the COMMON CORE STANDARDS!

My Spot for Kids values the individualized needs of each child and offers small group instruction consisting of two speech language pathologists for every 12 children.

TODDLER SOCIAL GROUP
Social interaction is fundamental to the development of social skills and is a pivotal tool for a successful future. Children's social behaviors are often dependent on temperament as well as environmental factors; however, it is crucial to encourage the development of social skills in toddlers to facilitate transitional situations. Many toddlers experience separation anxiety, difficulty adjusting to unfamiliar environments, and interacting with new adults and peers. My Spot 4 Kids motivates natural interaction and allows youngsters to successfully meet their social milestones in a fun, nurturing, and supportive atmosphere.

SOCIAL GROUP 4+

For some children, social interaction doesn't come naturally. At times, children and adolescents need structured environments to build a foundation for social interaction. My Spot 4 Kids social group summer program offers children the opportunity to work with peers while simultaneously developing writing and storytelling skills. As they share their stories, engage in debates, provide and receive supportive critiques and reviews, social interaction takes its natural course without the pressure. Eventually your child will build the confidence and skills essential for successful peer interaction.

Early Literacy Program
The academic expectations of youngtsers are drastically increasing. The curriculum has high demands on our kindergartners and first graders. When once they played and colored, , today children are expected to read and write. Unfortunately, for many children the transition in abrupt and they have difficulties adjusting - most children ARE LEFT BEHIND. Our Early Literacy program introduces children to the world of text. through our hands on, interactive, activities, children become intrigued with reading and writing. We instill the fundamental literacy skills necessary to become successful learners and ease the transition from play to academics by preparing children for the next level. Your child will have the confidence and skills to thrive as young readers and writers. Our Early Literacy program is led by highly skilled Speech Language Pathologists, who specialize in phonological awareness and literacy. Your child won't just be part of the game, but ahead of it!
Appropriate for:
Ages: birth - 18 years
Categories and features:
Kids Classes
Tutoring and Test Prep

Reading and Writing
Test Prep

Kids Services

Speech and Language Therapists
May 9, 2013
1368105625
We love My spot 4 kids. We owe our son's first words to Mor & Yelena. We are also very excited about their new KINDERCORE program!

May 9, 2013
1368105446
We love My Spot 4 Kids. It is a very encouraging and supportive environment. We owe our son's first words to Mor & Yelena. My son is really looking forward to summer camp with them. There summer programs are also coming to Hudson Heights this year!
May 9, 2013
1368105228
P.S their summer program is coming to HUDSON HEIGHTS
There are no scheduled events.