Created By You
Neighborhood: New Dorp
59 New Dorp Plz (Btwn Rose Ave & New Dorp Ln)
Staten Island, NY 10306
(718) 979-1841
created-by-you.com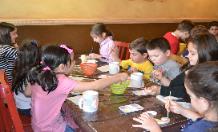 About

Reviews and Tips

Upcoming Events
Hours:
Sun: 12 pm - 5 pm
Mon: 10 am - 5 pm
Tues - Wed: 10 am - 7 pm
Thurs - Sat: 11 am - 9 pm
Description:
Wakes the artist in you! Bring art into your family's everyday life! Come and be inspired to create, spend time your family and friends and have lots of fun!

Our ceramic and pottery studio offers: Team building exercise, plan a birthday party or bridal/baby shower, have a ladies night out, wanting to hand paint a unique gift, capture your kids handprints/footprints on pottery, signature platters for a wedding, or just relax by yourself and distress from work? We are a fun pottery painting studio with well over 200 bisque selections and over 50 paint selections to choose from. Paint it today, treasure it forever.
Categories and features:
Birthday Parties

Arts Theme Parties
Party Performers (any location)
There are no scheduled events.